Lal Bhadur Shastri was born on 2nd October,great son of India, who was born in a normal family and became the Prime Minister. From 9 June 1964 to 11 January 1966 i.e. 18 months, he took over as the Prime Minister of the country.
Lal Bahadur Shastri, born on 2 October 1904 in Mughalsarai, Uttar Pradesh, the home of primary school teacher Sharda Prasad Srivastava, served as the Prime Minister of the country till the time of his death.
Lal Bahadur Shastri was promising since childhood. Due to being the youngest in the house, he used to fondly call him 'Nanhe' in childhood. Unfortunately, his father passed away when he was just 18 months old. His warts Raghunath Prasad helped him a lot in raising him.
He got his primary education only while living in his maternal grandmother. His subsequent education took place at Harishchandra High School and Kashi Vidyapeeth.
As soon as Shastri got the title of Shastri from Kashi Vidyapeeth, Shastri stopped putting the 'Srivastava' surname in the unique name. And put Shastri in front of his name.
Shastri ji, who gave the slogan 'Jai Jawan Jai Kisan', was considered to be the foremost leader of the farmers in the country. He also went to jail in 1921 while working as an activist of the Non-Cooperation Movement run by Mahatma Gandhi against the British Government in India.
After his release from prison, he studied at Kashi Vidyapeeth and got a postgraduate degree in Shastri (scholar of scriptures). After that he started his political life by taking a pledge of service. Shastriji spent all his life with simplicity and used it to serve the poor. Indian Independence.
Among the movements he played an important role in the freedom struggle, the Non-Cooperation Movement of 1921, the Dandi March of 1930 and the Quit India Movement of 1942 are notable. Lal Bahadur Shastri spent his entire life in public service.
At that time almost all the leaders and countrymen were convinced of his simplistic lifestyle. Lal Bahadur Shastri, who worked as the country's Home Minister during the tenure of the first Prime Minister of the country, Pandit Jawaharlal Nehru, also took important decisions at that time.
And because of this, he became the next Prime Minister of the country. He was highly praised for his steadfastness in the 1965 war with neighboring Pakistan due to the dispute over Jammu and Kashmir. He died in Tashkent after signing the agreement of the Tashkent Declaration not to go to war with the President of Pakistan Ayub Khan. Even today, the whole of India is reverentially remembered for Shastriji for his simplicity, patriotism and honesty.
He was also posthumously awarded the Bharat Ratna in the year 1966.People like Lal Bahadur Shastri are very rare. Throughout his life, there was no stain on him.
Despite being in politics, his image was very clean. Today, of course they are not among us. But through his great works, he will always be alive in the hearts of the countrymen.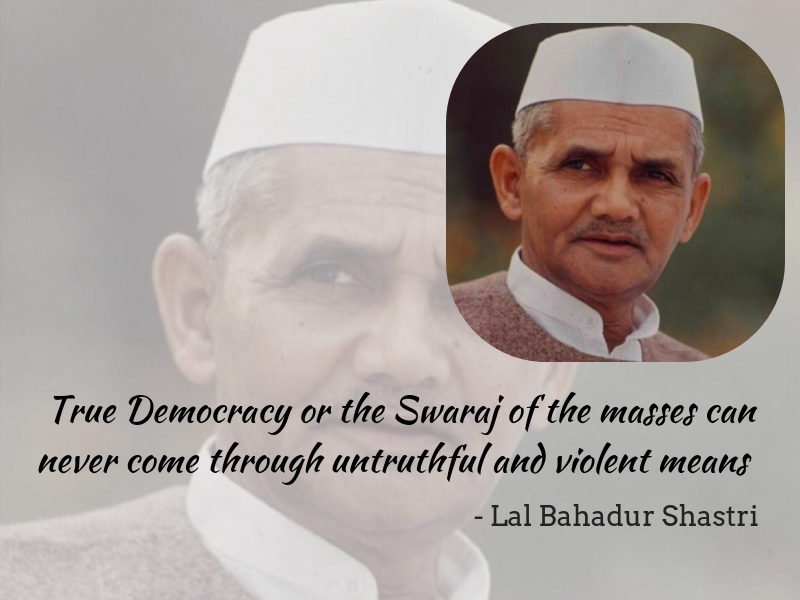 When India lost the war to China in 1962, Pakistan started to rejoice. Pakistan's Ayub Khan government quietly declared war in 1965. Operation Gibraltar broke out and sent thousands of soldiers to Kashmir to destroy the communication line of the Indian Army.
But at that time Shastri ji ordered the Indian Army and the Indian Army crossed the international border in Punjab. The army entered Pakistan and launched a two-sided attack on the army.
Lal Bahadur Shastri, the second Prime Minister of the country, contributed significantly to the independence of India. After this, India also played an important role towards making India a strong nation.
He was a minister in Jawaharlal Nehru's cabinet, the country's first prime minister.
Handled large departments such as Railways and Ministry of Home Affairs. Let us tell you that Lal Bahadur Shastri was born on 2 October 1904. His name was Lal Bahadur Verma earlier. But after graduating from Kashi Vidyapeeth, he got a Shastri degree. After this, he removed the Varma caste from his name.
When Lal Bahadur Shastri became Prime Minister in 1964, there was a war between India and Pakistan in 1965, the very next year. There was also a severe drought in the country. To avert the financial crisis, he appealed to the countrymen for a day's fast.
Such was the image of Shastriji that the whole country accepted his decision. On this occasion, he gave the slogan, 'Jai Jawan Jai Kisan', emphasizing the country's agricultural self-reliance.
Honesty was always the best policy – since children were hardly allowed to use the official car to go to school when their father was prime minister, the family decided to buy a Fiat car for Rs. A bank loan of Rs 5,000 was taken for Rs 12,000, which was given to Shastri's widow from his pension, after his accidental death.
Plain life, high thought- In 1928, when he got married on the request of his in-laws to get dowry, he took charkha and some khadi cloth. Even when he died, he allegedly had no property in his name and left behind some books and dhoti-kurta. As a child, Shastri swings across the river to reach school to save his poor family's money to pay for a boat ride.