Director- Rohit Shetty
ARTIST– AKSHAY KUMAR, KATRINA KAIF ,RANVEER SINGH, AJAY DEVGAN, GULSHAN GROVER, JACKIE SHROFF,ABHIMANNU SINGH.
After Waitage of almost one and a half years, Rohit Shetty's film "SORYAVANSHI" has been released on the big screen.
Theaters have opened across the country and it is nothing less than a festival for the entire film industry. After "SINGHAM" and "SIMBBA".
Rohit Shetty's cop universe features DCP Veer SURYAVANSHI  the head of the Anti-Terrorist Squad, who is attempting to save Mumbai from the biggest terror attacks ever.
There is as much hatred for Kasab in this country as there is love for kalam"; During interrogation, the terrorist calls Veer SURYAVANSHI (AKSHAY KUMAR) from Kadar Omani.
SURYAVANSHI, who has forgetfulness, remembers to speak dialogues on secularism and Desh bhakti patriotism every next minute.
THEME OF SOORYAVANSHI

The Theme 'An eye for an eye will make the whole world blind'; The entire film is based on this statement. From the mumbai 1993 blasts to the 26/11 Taj attack; AJAY DEVGAN, powerful voice reminds us of the Mumbai attacks.
It is also said that the biggest attack is yet to happen in the mumbai city. Terrorists had entered to India with one ton of RDX during the 1993 blasts.
Out of which 400 kg was used in the serial blast at that time, while 600 kg RDX was kept hidden in India itself.
Now some sleeper cells of Lashkar terrorists have become active again.
This time DCP Veer SURYAVANSHI, comes to save the city from the biggest attack of Lashkar.. Devoted to the country and best in his work.
Umar Hafeez (Jackie Shroff), the chief of Lashkar sitting in a neighboring country, sends his special men to India to bispot out the attack.
All terrorists stay in India for years.. Differently, changing their disguise and name. SURYAVANSHI slowly reaches out to all the terrorists of the sleeper cell and his old associates companion singham (AJAY DEVGAN) and [SIMBBA] (Ranveer Singh) arrive to help him reach the goal.
                                                                                                  DIRECTING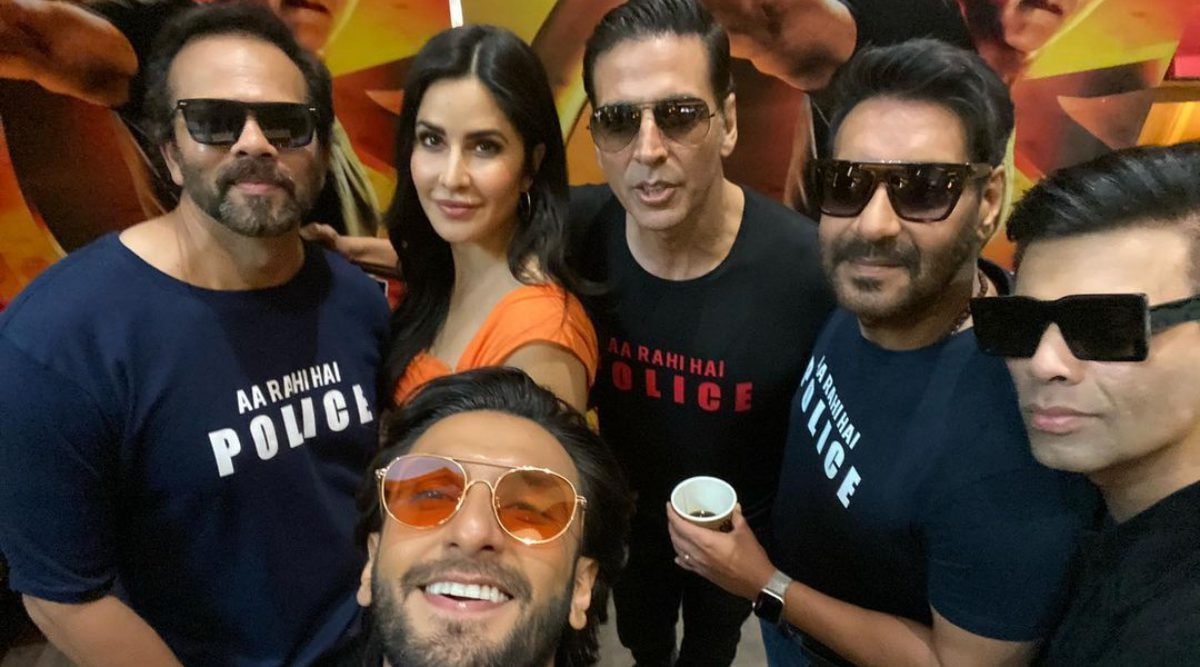 Hero's scintillating entry in slow motion, his style, vehicles flying from the blast.. Rohit Shetty's film will also see all these things.
But where the film kills, it is the script. There is no novelty in the film. We have seen AKSHAY KUMAR in this style before and also KATRINA KAIF.
There was a lot of difference between the stories of SINGHAM and SIMBBA, due to which the audience adopted both the films and both the characters with equal love.
But SURYAVANSHI does not give that space to AKSHAY KUMAR, Rohit Shetty has put so many dialogues on secularism in the film, that on one occasion MILAP JHAVERI" films are remembered.
 

ROLE OF ACTING
                           
AKSHAY KUMAR, who turned Daredevil Cop, has done full justice to his character.
Action, light-hearted comedy, romance masti,… fans can see every style of AKSHAY KUMAR  in this movie.
From the sheetimaar entry scene to the stunts done on bikes, cars, helicopters, actors win hearts once. AJAY DEVGAN and RANVEER SINGH, who became SINGHAM and SIMBBA in the second half, have been seen strong.
Within minutes, both leave their effect. Katrina Kaif is a hardworking artist and she has tried to give her best here too .
but her character base is very weak. She is seen in negligible dialogues and some forgotten scenes, due to which the audience only remembers that she is also a part of the film.
The supporting cast includes Jackie Shroff as terrorist gang chief Umar Hafeez, JAVEED JAVEEREY as ATS chief Kabir Shroff, GULSHAN GROOVER, KUMUD MISHRA, SIKANDER KHER,ABHIMANYU SINGH, NIKITIN DHEEMER have done a good job.
SONGS IN SOORYAVANSHI
There are two songs in the SOORYAVANSHI, MEERA YAARA and TIP TIP BARSAA PAANI.. Featuring, AKSHAY KUMAR and KATRINA KAIF, these songs seem quite inconsistent in the story.
These songs put just to show the romance do not impress. AILA RE AILA during the end credits leaves the audience in a better mood.